e-Signature FAQs
Boyce Spady and Moore PLC (BSM) offers electronic signing (eSignature) for most income tax returns and can provide clients with electronic copies instead of paper copies of their tax returns. We will offer eSignature for the following income tax returns:
Individuals
Partnerships
Corporations
Subchapter S Corporations
Our eSignature service is offered to our clients at no extra charge.
What should you expect the eSignature email from BSM to look like? The eSignature email you will receive from us should look similar to the following: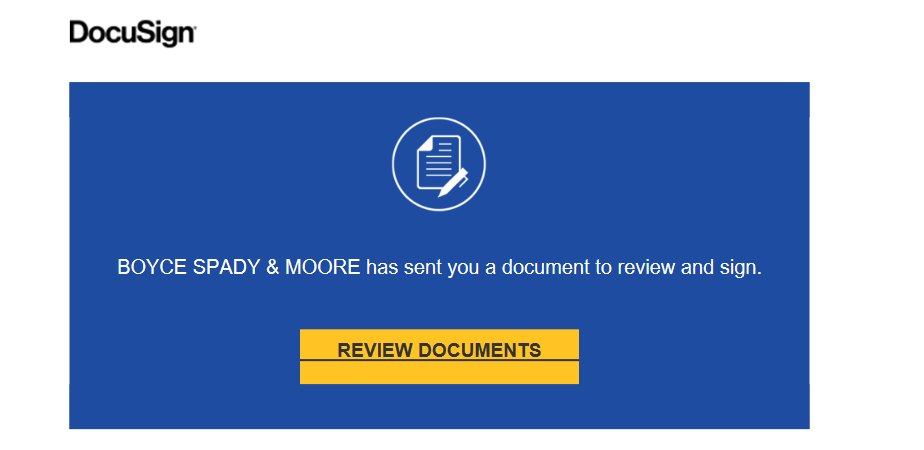 What is eSignature? eSignature is an alternative to traditionally signing your income tax returns manually. You will have the ability to view an electronic copy of your tax return, then electronically sign and submit to us your e-file authorization forms from any location in which you have internet access.
What eSignature service does BSM use? We use DocuSign, one of the most widely used electronic signature solutions.
How does eSignature work? Once we complete your income tax return, we will send you an email with a link to an encrypted copy of your complete income tax return along with the documents that will require your signature.
You will be able to access DocuSign from any supported mobile or desktop device. After you have reviewed your tax returns and are ready to sign them, you will click on a link to digitally sign your returns at the designated locations on the forms (For joint income tax returns, each spouse will receive an email and will need to eSign the forms). Once we receive your eSignatures, we will electronically file your tax returns.
From your DocuSign email, you will also be able to download a copy of your tax return to your electronic device and print a copy of your tax return for your permanent records if you would like.
How secure is eSignature? Our eSignature service maintains a detailed audit trail of the forms, including when they were sent, when they were opened, and when they have been signed. Our eSignature is encrypted with the highest standard of global information security and operations (AES-256 standard and 256-bit SSL document transmission). Before you can access your tax return in DocuSign, you will first be asked a series of questions using Knowledge Based Authentication (KBA) to verify your identity.
Is BSM requiring eSignature? eSignature will be our preferred method of collecting client signatures and providing client copies of tax returns. However, if you do not have internet access or are otherwise unable (or wish not) to electronically sign your tax return, you may request to receive a paper copy of your tax return for signature and for your records. However, we do encourage you to use our eSignature and electronic tax return service. Some of the benefits to you of our eSignature service are:
Provides a modern, faster, more convenient way for you to sign your tax return
Provides access to your tax return from any of your internet supported devices
Provides a more secure means to receive an electronic copy of your tax return for your permanent records
Helps reduce the amount of paper you may accumulate over time
Helps reduce your exposure to the COVID-19 virus